Let's say you have a document that needs to be notarized, but it is written in a foreign language or that you have a document that has been translated to your language that needs to be notarized. If you live in Miami, FL, you may deal with that frequently. 
Can notaries notarized it or certify the translation? 
Although the situations are similar, they are different; I will explain both and what notaries can or cannot do. First and foremost, notaries are not responsible for the contents of any document, but these are situations in which they should exercise caution.
Notarizations of Documents Written in a Foreign Language: when notaries receive a document to be notarized in a language they are not familiar with, the document can be notarized by doing the following:
Notaries should be able to verbally communicate with the signer or have a qualified translator/interpreter present. Notaries must make sure the signer indicate that he or she understands the document contents and is signing it willingly.
Try to determined if the document is complete with no blank spaces.
Check the document for a notarial certificate indicating what the notarial act that is required. If there is none, ask the signer to indicate which notarial act is needed. Remember, notaries who are not lawyers cannot determined that. If the signer does not know, refuse to notarize.
If the signer directs you to which notarial act is needed, add the correct certificate and complete the notarization in English. The notarial certificate may be translated into the same language of the document, but notaries cannot sign and seal the translated certificate.
Again, if you are unsure about the notarization, simply refuse to notarize.
Governor's Reference for Notaries – Notarizing in Special Circumstances p. 37
Notarizations of Translated Documents: some people seem to think that notaries can certify a translation, and perhaps, some notaries have mistakenly done that adding to the confusion. What can notaries do or cannot do with translated documents?
Notaries, even if fluent in the language the document has been translated to, cannot certify translations; it is not an authorized duty. Notaries can, however, notarize the signature of the translator on an affidavit in which he or she certifies and swears the translation is accurate.
Example of an affidavit for translators: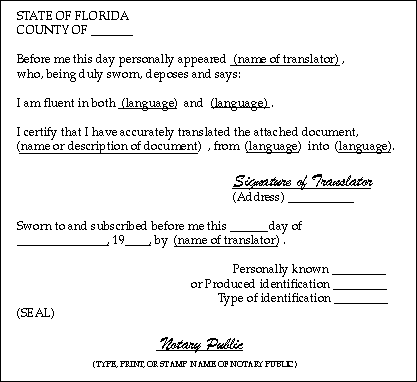 A notary can translate documents to be notarized as someone who is fluent in the language the document needs to be translated into, but not in the capacity of a notary. However, another notary has to notarized the signature of the translator, even if he or she is also a notary, since a notary cannot notarize his or her own signature.
Notaries – FAQ - As a bilingual notary public, may I certify the accuracy of a translation of a document from English to Spanish, or vice versa?
I am able to translate documents from and into Portuguese and English, and from Spanish to English. However, if I do the translation, I will need to do an affidavit and have another notary notarize my signature.
I hope this clarified any confusion about the ability of notaries to notarize documents written in a foreign language or translated ones.
by Alessandra Jackson
AG Pro Serve Intl.